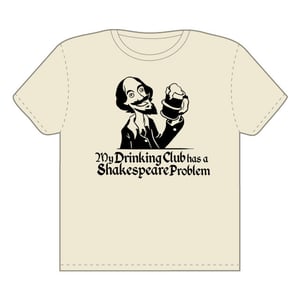 $

12.00
If you were never a part of an acting troupe, you have no idea how true this t-shirt is.
If you WERE, though, what better way to advertise your acting chops to the world? This is the shirt that says "Not only can I quoth, I can quaff just as heartily." Based on the Apartment 4H comic, Dead Drunk.
Shirt printed on Gildan Ultra Cotton, Natural. Please check out the This Chart for sizing info.
Shipping only available in the Continental United States.
Thanks for the orders, everyone! The pre-order is over, and shirts will be printed shortly. Because they're custom-printed, there isn't any back stock. If you would still like to purchase a shirt, however, please contact us. Once the minimum number of shirt requests are received, you will be contacted, and the next batch will be printed.